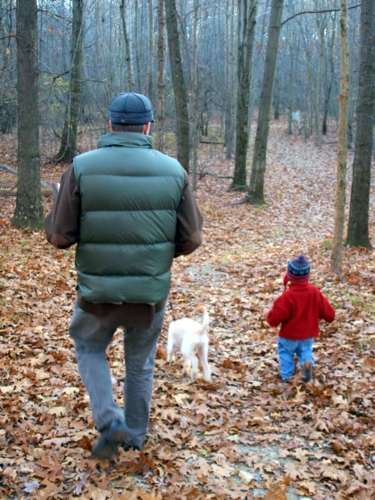 Active Kids Club has laid down a small challenge for this the week of Nov 14–19. They want to see us parents taking our kids outside every day. We want to see that too, so we're on board and encourage you all to take part.
Here at ODAJF going out for an hour every afternoon is what we do, but I will admit that when the rain is pouring down, or has been recently pouring down, the idea of cold wet feet and sniffly noses keeps us inside. This time of year, when the weather is often inclement, getting outside is not always easy or convenient.
We've covered ideas for getting outside in the fall before (check out Seven Ways to Stay Outside or Our Five Favorite Things About Fall). Now we want to make a quick comment about preparing for the weather. If you're going to send your toddler out in near freezing rain with just a polyester fleece, then perhaps you should keep them inside instead. Prepare for weather with layers, proper head gear, and gloves.
Right now my in-laws are in town, and Grace's grandma is knitting a neat ear-warmer that fits under/around a bike helmet. Genius! We also have a mess of gloves and hats, fleeces, vests, and "puffy" coats. Grace has two rain coats, but Tater has none (must rectify at the next mom-to-mom).
To organize all of this stuff, a real treat in years past, I picked up an over-the-door shoe organizer, one with twenty-four pockets, and screwed it into the wall. Lower pockets are for the kids. Upper pockets are for us.
But this time of year, it's not always about cold. This weekend we were too bundled up, but with the wind could've used hats. Anyway, I ramble…
Take the challenge. Get outside with your kids every day this week. Then tell us how it went. Leave a comment below or e-mail me at matt [at] ourdaysourjustfilled.com. Can't wait to hear how this effects people's feelings about getting outside throughout the year!
Here's a quick table of contents for this week's posts. Come back to see updates as we go!
Thursday — [to come]
Friday —  [to come]
Comments
comments