Our yard is pretty deep… about 100 feet wide and 400 feet deep. For the first seven years that we lived here, we dutifully mowed the back half, which has no trees or shrubs. Neighbors came and went. They'd lose the motivation to mow their "back 40" one year and the next would keep their lawns as pristine as the nearby golf course. This year, however, we had enough of keeping up with the fickle Joneses and let ours grow wild.
This was also the summer my wife and I took up disc golf. We love it! The only drag is that the course at the nearby state park is a bit too long (and a bit too busy) to bring young kids. Then the lightbulb struck me, maybe we could build a practice course in the backyard!
The overgrown field was the perfect canvas for creating my masterpiece. My idea was to cut a single swath down the middle. Others got involved and added trails off the main fairway. With arms spiraling off the middle, we have been able to toss to more than just one hole. All together there are six! (Seven if you play back to the tee.)
The basics of the game are simple, but like most sports, things can get more complicated the better you play. Like golf, you pick a hole, and from your starting place count how many times you have to throw the disc to hit the target. Our daughter can't throw nearly as far as we can, but she has her Frisbee and chases behind, throwing and she goes. Another option for young kids would be for them to throw a ball or launch a slingshot rocket from their fingers.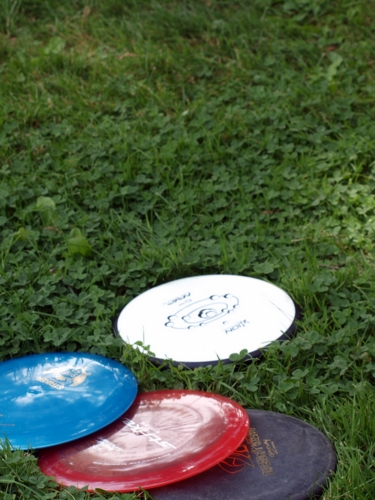 For us parents, this is good practice for when we get out to the course. Frisbees are okay, but when you play for real, it helps to have something a little better than the standard pie pan. We have a bare bones set of discs: a driver and a putter each for my wife and me.
We could also add basket "holes" for our course like they have at the "real" courses, but for now it really is just about getting outside with the kids.
But someday this experience will pay off. The kids will be competing for the World Cup of disc golf, dominating the competition, and then we'll see whose dad gets on ESPN.
Comments
comments